Boilers
Whether your fuel source is natural gas, oil, propane, wood or electricity, options is the keyword when talking boilers. You can choose from many small, energy efficient units requiring very low maintenance to provide hot water and steam for your radiator or radiant heat.
Boilers can be made of cast-iron, steel, or copper heat exchange. They can use different burners and venting systems. The wall-mount condensing boiler is the design of choice for most residential applications. Homeowners, builders, and heating contractors prefer this because it has flexible venting options and is compact in design.
The first thing to consider in a residential boiler is the size. An over-sized boiler can be noisy, less efficient, and more costly. Proper size can be determined by calculating the heat load that the boiler will serve. The cost effectiveness of the boiler must be compared with different efficiency ratings. Generally, high-efficiency models are more expensive than lower efficiency ones. Your boiler has a life of 20 to 30 years, so it's crucial to choose the right model so that long-term costs can be minimized. Your Cook's expert will walk you through this calculation to ensure the right boiler is chosen.
Combine quality construction with innovative features and you get a much improved experience, for not a lot more. In most cases, improvements in efficiency will more than cover any increase in cost over time.
Mod-Con (Modulating Condensing) Boilers
A Mod-Con (Modulating Condensing) Boiler will modulate water temperature according to the outdoor temperature. Modulating the BTU output to suit indoor needs, automatically adjusting to provide optimum efficiency and comfort.
High Temperature Boilers
If system requirements are for hot water of more than 150°F, a high–temperature water boiler should be considered.
Combi Boilers – Domestic Hot Water Plus Home Heating
A Combi-Boiler is a high efficiency condensing combination boiler with the capacity to supply both heat and domestic hot water for medium sized homes — enough hydronic heat for a whole house, plus hot water to run two showers and a dishwasher all at the same time.
Wood Boilers
Also know as solid fuel boilers, wood burning boilers can heat your home
comfortably and reliably. Many wood boilers are used as an "add-on" to a primary boiler. This allows for the energy savings of wood as your heat source while maintaining the convenience of oil or gas. And with proper installation many "add on" wood boilers can be used as the primary source of heat during a power outage.
Cook's carry Newmac wood boilers.
Item Name and Description
Navien NHB-55 Gas Low Temp Condensing Wall-Hung Boiler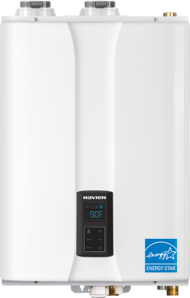 Max Input: 55,000 BTU/H
Indoor wall-hung
Residential/Commercial
Super condensing efficiency
Dual stainless steel heat exchangers
SCH40, 2″ PVC venting up to 60′
½" Gas pipe up to 40′
TDR up to 7:1
Integrated controls


Trust us for your total home comfort needs.