Wood Fireplace Inserts
At Cook's Plumbing, Heating and Air Conditioning we have a variety of wood burning systems including stoves, fireplaces, inserts and cook stoves. Let our WETT certified technicians install a warm, safe wood system in your home.
Wood fireplace inserts upgrade the appearance and functionality of your fireplace, allowing you to use it as a reliable, alternative heating source. So what's a fireplace insert? In a word, it's a stove inserted into an open fireplace. Wood burning inserts are almost exclusively installed into masonry fireplaces. The many advantages of choosing a wood burning fireplace make it an excellent investment.

Cook's Plumbing, Heating and Air Conditioning experts are here to help you on your journey to heating bliss.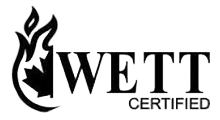 Osburn Wood Burning Inserts
Heating Area : 500 – 2,100 Ft2
Maximum Heat Output : 75,000 BTU/h (22.0 kW)
Dimensions: 23 1/8″ H x 28 3/8″ W x 26 1/2″ D
Maximum Log Length: 20″ Log
With its 2.4 cubic foot firebox, the Osburn 2000 insert offers an alternative to the people who love its freestanding counterpart. The two models share the same high quality combustion properties and many of the same features.
This appliance comes with a standard high-power, heat-activated 120 CFM fan strategically positioned to redistribute the heat from the firebox into the room.
The 2000 model is designed to receive an optional faceplate that can cover a masonry hearth up to 32 inches (81 cm) high and 50 inches (127 cm) wide. The door overlay is available in black or brushed nickel plated finishes and the faceplate trims too.
Heating Area : 800 – 2,000 ft2
Maximum Heat Output : 70,000 BTU/h (20.5 kW)
Maximum Log Length: 18″ L0g
Dimensions: 23 1/8″ H x 32 7/8″ W x 28 3/8″ D
The 2200 insert, with its focus on efficiency and elegance, is an excellent example of Osburn's know-how. The bay window adds a touch of elegance to your fireplace and also improves its heat output.
The 2200 insert is designed to offer a long burn time in slow combustion mode and can provide comfort for many hours – even overnight – thanks among other things to its ultra-silent standard blower. The Osburn 2200 insert – superior features in an eye-catching, high performance wood stove.
Heating Area : 1,000 – 2,700 ft2
Maximum Heat Output : 100,000 BTU/h (29.3 kW)
Maximum Log Length: 21″ Log
Exterior Dimensions: 23″ H x 31 1/8″ W x 28″ D
The 2400 insert has the same firebox as its freestanding counterpart, and will transform any conventional decorative fireplace into a highly efficient heating system.
Its 100,000 BTU/hr, combined with a 3.4 cubic foot firebox, will help you to rest easy during those long winter nights, and its large glass window offers a perfect view of the fire.
Heating Area : 750 – 2,100 ft2
Maximum Heat Output : 75,000 BTU/h (22.0 kW)
Maximum Log Length: 20″
Exterior Dimensions: (with faceplate) 25 1/8″ H x 36 1/8″ W x 23 1/8″ D, (without faceplate) 23 3/8″ H x 28 3/8″ W x 23 1/8″ D
The Matrix wood insert defines the new standards for contemporary look and performance. This appliance looks like a fireplace, but has all the advantages of an insert. It's faceplate and blower assembly were developed to allow a flush finish with the masonry fireplace. The blower assembly (90 CFM) is equipped with a heat sensor and a switch that can be set to automatic, manual or OFF position.
Cast iron was selected as the material of choice for this clean and modern unit. Installation into larger openings is facilitated by the use of an optional sheet metal backing plate. This wonderful insert will surely become the focal point of the room.
Heats up to: 2,000 sq.ft.
Firebox Capacity: 2.4 cu.ft.
Size: Up to 75,000 BTUs
EPA Certified: 3.2 gph
Efficiency: 79% LHV
Burn time: Up to 10 hours
HeatLife: Up to 12 hours
Maximum Log Length: 22″
Large door with soap stone liner.
The Clydesdale is the perfect solution for drafty, inefficient fireplaces. The large viewing area highlights the ambiance of wood burning while the cast iron and soapstone construction generates a heat output sufficient for large areas.
Width: 31 1/2″
Height: (includes flue collar) 23″
Depth: 24 1/2″


Trust us for your total home comfort needs.