A Poem by Edie Embree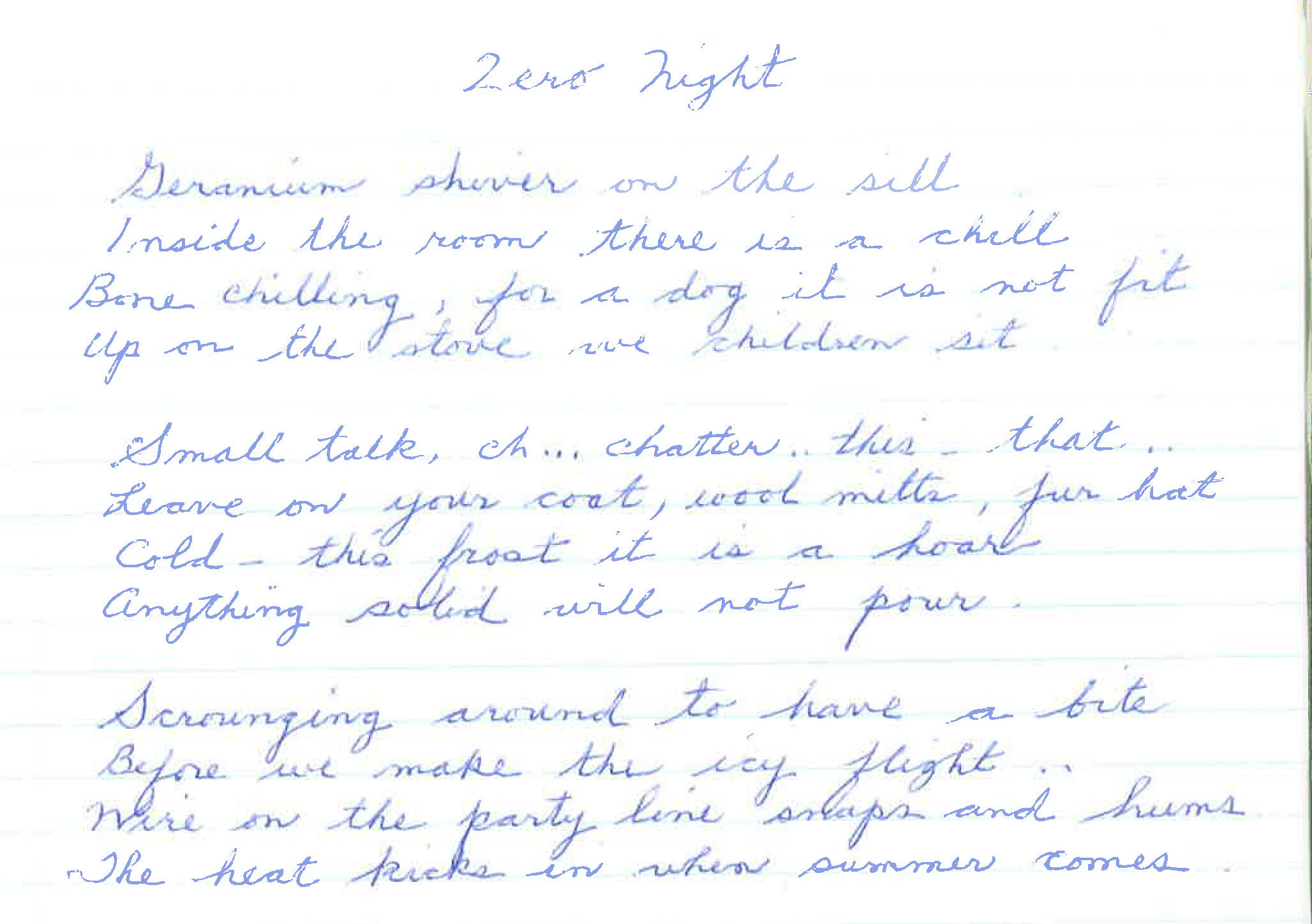 Zero Night
Geranium shiver on the sill.
Inside the room there is a chill.
Bone chilling, for a dog it is not fit.
Up on the stove we children sit.
Small talk, ch…chatter…this…that…
Leave on your coat, wool mitts, fur hat.
Cold—this frost it is a boar.
Anything solid will not pour.
Scrounging around to have a bite
Before we make the icy flight.
Wire on the party line snaps and hums.
The heat kicks in when the summer comes.
—Edie Embree
"The success of any organization depends directly on the qualities and competencies of the people it employs. I wish to acknowledge the very professional manner in which the men of both your install and electrician crews conducted themselves during the installation of my 'Mitsubishi Cold Climate Multi-Split Heat Pump System' last July 10th [2023]. They were very polite, well-organized and extremely efficient.
Logan and Andrew worked very well together, and they took the necessary time to explain to me how the installation would proceed. They were very knowledgeable, responsible and careful when boring holes in my walls – Logan even vacuumed the floors before leaving! The outdoor unit had to be placed in a garden, and the guys tried to spare my plants as much as possible while completing all the necessary work. They were both very patient in answering my questions during their explanation of how the system works using the remotes.
When Ian and Cian arrived Tuesday morning, we discussed where the main electrical line would run. I was somewhat disappointed when I learned it would have to be placed on top of my deck floor. When I checked on the progress of the electricians a couple of hours later, I was elated to find out that Cian had crawled under the deck and was able to run the line underneath so it doesn't show at all! That extra effort is so appreciated! Ian had to do some 'fancy' rewiring at the main panel to accommodate the new breaker for this system, and he did so without any hesitation.
Thanks to these amazing young men, my first experience with 'Cook's' has been a very positive and impressive one! I'm thrilled to have air conditioning at the push of a few buttons during this recent heat wave. It will definitely be my pleasure to highly recommend your company to all my friends and neighbours!"
Lynda H

"Just wanted to thank you for the great and fast fix for our heating system; it's working fine! Again, thank you."
Marc

"Just wanted to let you know Felix was top notch, I was extremely impressed by his professionalism. Great work."
Jeff

"Very pleased with Brody and Draiden. Very courteous and polite. Always happy with Cooks' professionalism."
Shipwreck Lee's Restaurant

"I really enjoy working with Cooks. Every staff member (Felix, Chris, George, Bryce, Rick, Shawn, Brody, Darrin J) I had contact with is friendly and professional. I appreciated how every technician always wore a mask in my home. I shop for quality, rather than price and Cooks offers quality."
Alan

"I must comment on your extremely professional organization. From the friendly and efficient technicians, to your timely and professional phone calls and phone operators, to your emails with everything fully explained (including a Adobe download link for those folks that need help with that). I don't know who manages your marketing and print needs, but someone is doing an great job with all your media and consistent messaging. Keep up the great work, and know that you're my first call for any plumbing needs in the Grey-Bruce area."
Steve

"What a great job the team did with the installation. From Darren on the initial planning to Logan and Jon, they were awesome. Minimized the necessary disruption whenever possible and worked very hard to get a challenging and big job done. Great employees that I wanted to recognize."
Mr. Casola

"Many thanks to Cooks (& Logan) for your prompt service fixing my furnace in the cold weather."
Joan

"Great job! Appreciate how quickly we got this done!"
Jim

"Thank you so much for all the great communication and hard work you all put into getting heat into my home. So much appreciated."
Yolanda

Heather was so impressed with our install crews, and George with her water treatment, that she has brought on her mother and uncle as new customers. They are booked in for annual maintenance of both heating and water"
"The boys were incredible!"
Stan

"Great job on installation!"
Jamie

"Guys were polite, tidy and respectful. Great job boys!"
Susan

"George was terrific and we enjoyed meeting another member of your team! Cooks is the best again!"
Anita

"Quite impressed with their work!"
Mr. Green

"Dylan did a great job!"
Brad

"Rick was awesome!"
Mr. Yates

Last summer serviced new customer: Boyd A/C unit. They have made a decision to switch to us permanently due to Derrick and we are now servicing their heating system.
"Technicians were cordial. Pleased with the service. Definitely will call again when I need something!"
Muriel

"Excellent service. Courteous. Very happy."
Tom

"Great job extending oil tank vent pipes."
Cunningham

"Fireplace installation – we are really enjoying our new fireplace! The installation was seamless!"
Mr. Randall

"Excellent service in tough 'pandemic time.'"
Bob

"Jim/Cheryl/Sons/Staff are friendly, knowledgeable. Had an emergency, they made time for me within an hr of me calling, professional."
"Quick turn around, better price than competition, Completed in 1 day, worked overtime, faulty part but co-worker drove part down for completion, tied up and swept basement (cleaner than when they arrived) whole crew and office staff was courteous, knowledgeable and professional."
Stokes

"Thank You for your awesome service. We really appreciate your efforts when our Boiler was down. The technician was great."
McCallum

"Two guys that came out were excellent and very knowledgeable."
Brownlee

"Derrick was excellent and efficient."
Grieco

"Really happy with the work done."
Dave

"Very knowledgeable and personable. Very Happy!"
Lee-Anne

"Our thanks and compliments to our installers Jordan and Chris for a great job."
Phil and Sue

"Very civil and efficient. Did the job quickly and arrived exactly on time."
Walter

"Many thanks and kudos to Dylan for solving the problem on the spot!"
Christopher

"Excellent service. Courteous. Very happy."
Tom G

"Great job extending oil tank vent pipes."
C

"We are really enjoying our new fireplace! The installation was seamless!"
Mr. R

"The two guys that came out, Aaron and Jordan, were excellent. Very knowledgeable."
Sharon B

"Excellent work. George has been servicing my water equipment for the past 3 years and completed a full install for a softener system. George was thorough and explained the workings and general maintenance with the new equipment. Extremely pleased!"
Bob B

"Exceptional. Derrick was kind, considerate, explained the repair as he went, no need to remind about removing boots or cleaning up. [Cooks is] very fortunate we have him as part of their team. He is  at the top of my list as preferred repair techs"
Barb M

"Everything is working great! Very pleased. We appreciate your business!"
Fred B

"I would like to thank you for your great job.  The plumber who came out to our residence (Tim Shears) was knowledgeable, efficient and personable.  Thank you for your service.  I would be happy to recommend you to my friends and associates. Randy B from Sound Heating and Cooling had recommended you to me."
Kate
"I just wanted to say the electrical work done by Dylan was top notch! He took the time to explain everything and the work was completed efficiently and as estimated."
Dave B
"Felix and Brock were awesome as well as office staff for getting the job done!"
Jim C.
"Derrick is great. Thanks for hiring good staff and training them well."
Shawna M.
"Very pleased with Derrick's professionalism and great attitude."
Kathy and Ron B, Grey Road 1, Wiarton.
"We had an issue with my AC and called around for assistance. With Cook's we received immediate service for a fair price. I found the office staff incredibly helpful, and the service technician thorough. My issue was resolved within an hour. Will definitely call again for future HVAC, Plumbing, or AC service needs."
Tanya C.
"Your company installed an AC unit at my home last week. I would like to let you know that Aaron, Brock & Dillon were very friendly, considerate and gave me confidence that I chose the right company to install my AC unit.
They knew what they were doing and took the time to do it properly. I felt that all three of them were working for me and not just here to get it done. Aaron took the time to explain some details about the unit. Very nice young men.
Aaron & Dillon took a few minutes today to stop by and see how the unit was working. I had just received my invoice and was talking to your office , so I was able to send the cheque with Aaron, which saved me a trip to town.
Your salesman Dave was also very helpful in helping me decide on my options on locations and what I wanted. Very satisfied. Thank you."
Dorothy M, Leith.
"In all our years we have never had plumbers as so efficient as Cook's."
Andrew & Mary B.
"
Connor did a great job! Very nice guy
"
Paul H.
No problem at all! thanks for double-checking and I am really happy that everything has been resolved 😉 Thank you for everything, we really appreciate the great service that you and everyone at Cook's provides and I feel like Cook's really has our back. Thank you!
Ross R.
"Today I had Derrick.  I just want it to be know what a wonderful job he did and how pleasant he made the whole experience.  He was very respectful, kind, patient, friendly, and he was also very knowledgeable, efficient and punctual.  In a day in age where we hear a LOT of complaining, I just wanted to send praise and have it known to his higher management that he is doing a fantastic job representing your company."
Tina C.
"Aaron and Felix did a fantastic job yesterday!"
Lara D.
"Install done.  Your guys did a good job and cleaned up nicely.  We filled out a form for yearly service for a few things so let us know what else you need from us for that."
Brenda K.
"I just wanted to let you know that we love the wood stove!  The soapstone is even more beautiful than in the pictures.  We have been using it steadily since Luke installed it and it has been amazing at heating our house.  We especially love the side loading door.  Thanks for all your help."
Seana and Kim M.
"Brian and Derrick did a great job on their scheduled visit on January 4 so it's all good now!!  Thanks to the entire team for a great job!  Please pass on our appreciation to Luke and Everyone!"
Steve B.
"Jason and Trevor did a great job and worked very hard."
Don F.
"I am a preferred customer of yours.  I purchased this plan when I bought my new furnace and a/c units from you last summer.
Name withheld
I found the service I received for everything, from the sales (Dave McArthur) installation (numerous friendly, efficient and helpful technicians), to a few follow up tweeks to the system, to be just fantastic.  Really a relief from my previous experiences with other companies such as yours, in the past."
Jennifer G.
"Wanted me to pass on to the management and Derrick that I was very impressed With Derricks professionalism and care while doing the install of a range Hood. Would recommend Cook's services.
Chadd N.
"Our experience with "Cook's": Hot and gooey outside (as you know), and our recently installed "Mitsubishi" mini-split AC system is performing beyond expectations. We just bought our 10 year old, open concept, home in Southampton Ontario, and we had asked Luke Cook, at the Owen Sound Home Show, to give us a price on adding a central air system to the existing furnace. We set up and appointment, and he arrived right on time…we talked about the obvious AC addition, and I mentioned the Mitsubishi split system…with surprising enthusiasm, he thought our home layout would be just great with one of these packages, and priced out the smallest of the "Mr. Slim" line. Our home is one storey and about 1400 sq.ft. and the small unit capacity seemed undersized to me, but Luke assured us that it would handle the job, so we advised him to schedule us into their busy spring program. In an unexpected turn, their office called to see if it was OK for them to install it a couple of weeks before the scheduled date..Why sure! Their two installers showed up about 9am, and did a great professional job putting in the system (just under 3 hours). Give them our compliments Luke.  Our record heatwave hit us, and we turned the little beast on to see if it could do the job…It did! Just amazing, almost dead silent (inside and out). No clunky furnace droning away in the basement, and no roaring condenser fan to irritate our neighbours. A nifty piece of engineering and very professional service. You're very welcome to use us as a reference any time….Thanks!
Scott and Bonnie M.
"Trevor did a great job, showed up when he said he was going to and we are very happy with the service."
Judi M.
"I would like to say on June 1st, I required assistance with my water sterilizing system thus contacted Cooks Plumbing in Owen Sound consequently received a service call from this business.  Needless to say a young man by the name of George came and rectified my problem with little or no hesitation, I was also impressed with this young man to the point I would like to commend him to his employer, he was polite, informative and carried out the job efficiently."
Bill B.
"Just wanted to let you know the guys were great!  They were personable and quick.  As usual, the Cooks teams are always very professional. Thank you.  So, the next thing to go will likely be my 19 year old air conditioner. Rest assured, when that needs replacing, I will be going to Cooks to do it (I assume you have excellent models)."
Barbara H.
"Installation of two ductless A/C's at Owen Sound Health Team Building – You've got great guys working for you. George – super nice, answered any questions I had without trouble, explained everything super simply."
Phyllis.
"The guy that came was SO nice (George), he gets a gold star, he was amazing!"
Kerri M.
"What a great guy Chris the plumber is, very polite and personable. And what a neat & tidy installation job he did installing my reverse osmosis, Thank you"
Doug.
"Bryan did a fabulous and professional job getting the clogged soap out from our toilet."
E Graham.
"Kudos to Tim and Felix.  Both outstanding employees; very professional, answered all questions, and lastly and most importantly they cleaned up after themselves."
K Landstrom.
"Awesome job fixing plumbing issue.  Happy with the service all around, and called to set up for the Preferred Customer Plan."
R Dewhurst.
"Over the weekend of February 9th and 10th we had two gentlemen from Cooks visit us separately, as the issue with our troubled furnace was diagnosed and rectified.  We would like to say how thoroughly impressed we were with both of these professionals.  Not only were they true experts with the technology, Rick and Derek were a real pleasure to have in our home. Thoughtful, patient and thorough, both of these gentlemen reflect very positively on your business. Congratulations and thank you."
D&S S.
"I really do think that Cook's is great….and I do tell lots of people!!  I love the way everyone seems to work together and I can always trust that the job is done well."
P. Cavan.
"Please pass on to your management / owners our sincere thanks to "Chris" for his work in solving our emergency problem.  Chris was professional, efficient, careful & knowledgeable while servicing our septic system pump in less than ideal weather.  Thanks for making a problem day much better".
B&L H.
"Very impressed by Bryan.  He is the best technician we've had.  Serviced boiler system with zones."
G Round.
"Chris Munsie and Bryan White did a fantastic job this morning. They were respectful, kind and fixed the situation with no complaints."
S. Benjamin.
"Thank you so much for helping me when I came in to the store all flustered over the "beeping noise" in my basement.  I really didn't know where to begin but you explained the problem and the probable solution.  I appreciate that you were able to get it fixed so promptly."
A. Ede.
"Exceptionally happy with service last night as we had an emergency.  Called around to others and no one wanted to help us with our situation.  Then call Cook's and Chris Munsie called back right away, gave us tips on how to resolve the issue and the problem was resolved. Will be contacting Cook's from now on before any others."
D. Brinkman.
"Compliments to George on a job well done.  George installed a water treatment system and Navien hot water heater.  George was professional, polite, courteous and very meticulous and methodical in planning how the equipment should be installed.  Very impressed with his workmanship and professionalism.
R. Barfoot.
"Tim was excellent.  He installed the tank with some innovative thinking due to the tight quarters.  In addition, he did an excellent job installing the anti sweat valve and getting it just the way I wanted it.  He was very happy to accommodate my wishes and I'm extremely pleased with the outcome."
B. Felker.
"Thanks to all of you for the installation of our new "Valor" fireplace – we are absolutely thrilled!"
Betty & Hugh.
"Thank you for all your hard work (& patient explaining).  You have helped us to create a "4 season home"!
Jack & Denise.
"Thank you so much for your caring attitude and generous help with our priceless geo-thermal heating system.  We really appreciate your attention to our special needs and time issues.  We will continue to tell people about your superior service.  There should be more people like you.  With our prayers and gratitude."
X & N & P Blagden.
"Thanks for every thing – everybody!  We love Jayne, We love Luke!"
Geoff & Dixie.
"Thank you for your great customer service. On my behalf, please thank the tech (George) that completed the work, he was professional, friendly and did quality work."
C. Pereira.
"I want to express my greatest appreciation to Jayne and your team for the great workmanship that was performed as we renovated additional office space.  Jayne's ability to master work schedules and put up with my constant calls and the professionalism of your team is commendable!  Wishing you continued success!"
S. Skinner.
"Cook's installed our GeoThermal system about 16 years ago. It's been working great ever since. Just the odd little issue every five or six years, but they fixed it up quick. There's a lot of iron in our water. So it's red in colour and not drinkable without major treatment. Cook's put in a clean water system that gives us great-tasting drinking water throughout our home."
Name withheld.

"Luke comes by every autumn to check our system. I trust them to keep our water clean and sustainable. They've done splendid work for us over the years. I wouldn't recommend anyone else."
Jim and Fran M.
"We are always happy to thank and give credit to your staff for their fine work. "Hats Off" to Ted in particular. I was very impressed with his work."
Fred S.
"You have a great group of guys…we were most impressed with their professionalism."
Gail and Randy V.
"We are so happy with our new boiler and all the fine work done by Cook's. This winter we saved $500 over last year's heating bill and the boiler is a major reason why".
Keith and Stephanie L.
"Professional and knowledgeable, what else can you ask for in your plumber."
Paul H.
"We've been dealing with Cook's since we built the house back in 1988. Cook's has always been there when I needed them. They were out to the house in the middle of the night a couple of times over the years. We've never had a reason to complain when the work was done."
Name withheld.
"I'd definitely recommend them. They've always been responsible and reliable. We trust them like family."
Beverly M.
"NextEnergy and especially myself would like to express my gratitude in Cook's and Luke for looking after this customer. Luke has always been the upmost professional and his technical skills as a mechanic and service person are far above the standard. Luke has always been able to solve problems others have given up on. We appreciate this excellence in service Cook's is able to provide us in very difficult situations. Luke's skills and professionalism should be the standard in this industry!!!
Thanks Luke, you're level of knowledge and expertise make Cook's, NextEnergy and the Geothermal Industry look good."
Jason W.
"I would just like to express my appreciation for Luke's work. On Feb 10, 2014 he installed a new, complex thermostat for us which significantly improves our ability to run and monitor our geothermal heat pump. Although Luke had never installed this kind of thermostat before he was eager to do so and his installation was perfect – the thermostat operated as advertised as soon as we switched on the power. I've worked with Luke several times and have always found him pleasant, intelligent, curious and competent in everything that he has done for us. He has an excellent customer appreciation attitude which makes it really great to call and work with him. I have called him several times asking him to call me back after he has finished his day at work and he has always responded quickly and informatively."
Peter L.
"Mark and I wanted to thank you for your most recent service of our furnace, and the resulting bill…you have treated us so fairly."
Kelly and Mark W.
"Just wanted to thank you and your team for the magnificent work that was done to the house. We are more than happy with your professionalism, workmanship, friendliness, respect, and complete care to do it right, and in a very quick period of time. Thank you again for getting our lives back to normal. Cook's is definitely made up of superhero's. We are highly recommending Cook's to everyone."
Sarah P.
"In my experience you never mess up. I hope everyone appreciates how well you do what you do…Darren and Trevor were terrific to work with. Profession, neat, on time and personable. You have a great crew…I'm glad we chose Cook's. As usual!"
M Flood.
"This letter is to express our complete satisfaction with the speed and efficiency with which Cook's solved the "no water" problem at our rural home. We would not hesitate to "call Cook's" with any plumbing problems in the future and we would certainly recommend them to anyone in need of their services."
T & R Olver.


Trust us for your total home comfort needs.