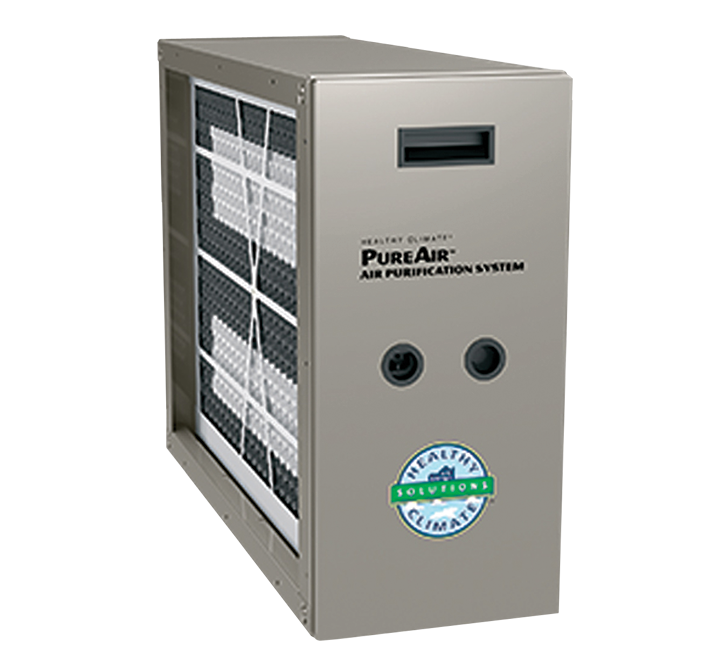 Healthy Climate®
Pure Air™ Purification System
• Precision pleat Merv 16 media filter
• Hospital grade filtration
• Captures tiny particles down to 0.3 microns
• Removes airborne chemicals caused from synthetic household pollution
• Complete odour removal
• 12 month filter life
• 5 yr limited warranty on all covered components
Indoor Air Quality
At Cooks we'll guide you through the process of choosing an indoor air quality system.
Working with your central heating and cooling system, Lennox Healthy Climate® Solutions improve the air throughout your entire home, not just in individual areas. This makes them more effective than portable indoor air quality products.
Rest assured your air is cleaner…
Dust.  Chemicals.  Mold.  Mildew.  Bacteria.  Viruses.  Pet Dander.  These tiny particles (measured in microns) are all very common in home.  And they can cause all kinds of problems for you and your family.  With the Lennox PureAir system, you can breathe easier knowing that the harm you can't see is virtually eliminated – leaving you with cleaner and more comfortable air.
Unmatched purification and filtration
Three classes of air contaminants exist in the home that adversely affect indoor air quality.  Conventional systems available today only combat one or two classes.  The Lennox PureAir system is designed to combat all three for comprehensive air purification.
Particles (any substances measuring less than 100 microns in diameter).  Removes more than 95% of particles down to 0.3 micron including dust, pollen and pet dander.
Bioaerosols and Microorganisms (microscopic living organisms that grow and reproduce in warm, humid places).  Removes more than 90% of bioaerosols down to 0.01 micron including viruses, dust mites, bacteria, mold spores and fungi.
Odors/Chemical Vapors (air contaminants in the form of gases).  Removes and destroys approximately 50% of household odors and chemical vapors in a 24-hour period.
Industry-leading Air Purification
The Lennox PureAir™ Air Purification System uses three types of technology to battle all three types of indoor air pollution. That lets PureAir clean the air better than any single system you can buy.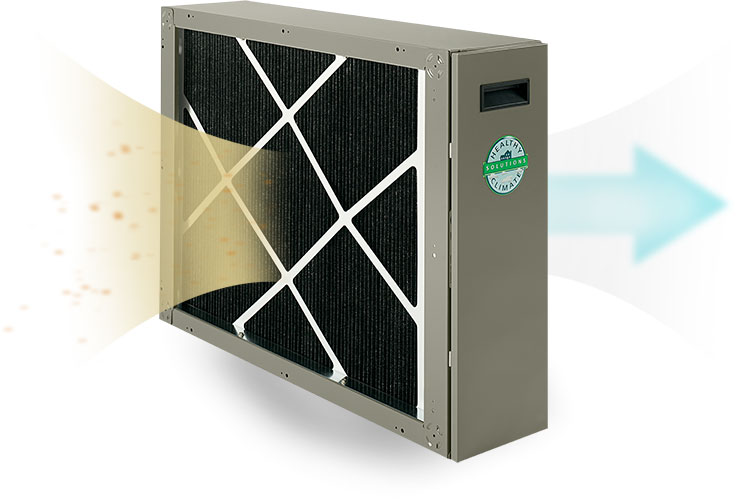 The Lennox Healthy Climate® Carbon Clean 16 media air cleaner combines industry-leading MERV 16 filtration with activated, carbon-coated fibres to remove particles and germs from your home's air.
MOISTURE IN THE AIR, IN PERFECT BALANCE
Properly humidified air feels better on the skin, and lets you heat and cool your home at a more energy-efficient setting. But the right moisture levels can also affect the healthiness of your air.
A Lennox Healthy Climate® ventilation system keeps your home filled with fresh, comfortable air, lowering the concentration of contaminants.


Trust us for your total home comfort needs.