Heat Recovery Ventilation
Cook's knows the importance of indoor air quality. Superior ventilation will remove stale, polluted air that builds up in our homes through daily living. A properly planned and installed ventilation system will ensure fresh air delivery to the most important rooms of your house no matter the season.
Today's energy efficient homes trap stale indoor air, causing poor air quality and potential health problems for you and your family. So what can you do? A ventilation system will remove harmful indoor fumes from paint, plastics, carpets, adhesives, household products, lingering pet odors and moisture that cause mold by removing stale, contaminated, air from inside the house at the same time drawing fresh oxygen-laden air from outside and distribute it throughout the house. Stale, polluted air is constantly being replaced by an equal quantity of fresh clean air, while retaining energy and reducing homeowner utility costs.
Ideal for colder climates
In colder climates, where home heating is essential, the heat recovery ventilator (HRV) is the proper choice. The HRV keeps the home supplied with a steady flow of fresh outdoor air. As stale, warm air is expelled, the heat recovery core warms the incoming fresh, colder air before it is distributed throughout the home. The result is a constant supply of fresh air, no unpleasant drafts and greater home comfort. In addition to heat recovery and improved air quality, the HRV provides necessary ventilation while controlling excess humidity.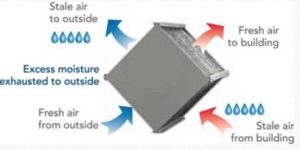 A NEW ERA FOR AIR EXCHANGERS, DRIVEN BY VIRTUO AIR TECHNOLOGY
Introducing the industry's most advanced residential air exchanger, created to offer you much more than a standard Heat Recovery Ventilator (HRV) or Energy Recovery Ventilator (ERV). The AI Series features a universal platform that works with every conceivable type of dwelling, simplifying the installation while delivering superior air quality and comes standard with Virtuo Air Technology.


Trust us for your total home comfort needs.