Highest Comfort and Best Efficiency
Merit Series: Lennox ML296V
• Two-stage
• Up to 96% efficiency AFUE
• ECM variable blower
• Upflow/downflow on horizontal out of the box
• Corrosion resistant burners
• 10-Year Limited Warranty on covered components with product registration
• 20-Year Limited Warranty on Heat Exchanger
• 5 wire. 6 wires with AC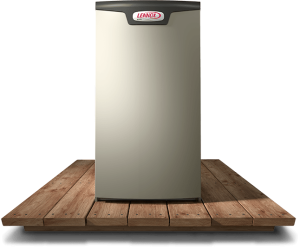 Elite Series: Lennox EL296V
• Quietest, most efficient two-stage furnace you can buy
• Up to 96% AFUE
• Variable speed power saver fan motor
• Upflow/horizontal or dedicated downflow designs
• iComfort™-enabled
• Sealed and insulated blower compartment
• Limited Lifetime Warranty on heat exchanger
• 10-Year Limited Warranty on covered components with product registration
• 5 wire. 6 wires with AC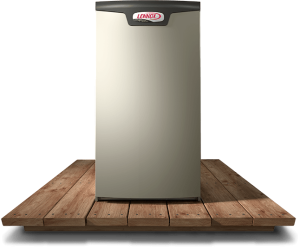 Signature Series: Lennox SLP99V
• Quietest, most efficient variable capacity furnace you can buy
• Up to 99% AFUE
• Variable speed power saver fan motor
• Precise Comfort™ and AirFlex™ technologies
• SilentComfort™ technology
• iComfort™-enabled
• Upflow/horizontal or dedicated downflow designs
• Sealed and insulated blower compartment
• Limited Lifetime Warranty on heat exchanger
• 10-Year Limited Warranty on covered components with product registration
• 4 wire
Great Value and Efficiency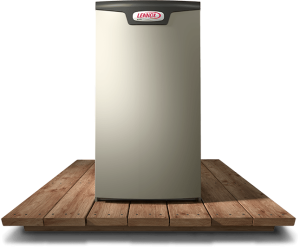 Elite Series: Lennox EL196E
• Single-stage power saver fan
• 96% AFUE
• 3 speed power saver fan motor
• Power Saver motor increases system efficiency
• Upflow/horizontal or dedicated downflow designs
• Sealed and insulated blower compartment
• Limited Lifetime Warranty on heat exchanger
• 10-Year Limited Warranty on covered components with product registration
• 4 wire minimum. 5 wire with AC
Gas Furnaces

Cook's provide a variety of furnaces to fit every home and budget, including the following;
Lennox Signature Series Variable Capacity Furnaces
Two Stage Variable Fan Furnace
Single Stage Variable Fan Furnace
Standard Fan Furnace
Dave Lennox Signature® Collection – Variable Capacity Furnace….The Best of The Best  
Lennox Signature® Collection is the absolute best in the industry in our opinion. This series of heating and cooling equipment surpasses all other makes and models for performance and quiet operation.  You simply cannot choose a better option for your home.
What is a Variable Capacity Furnace?
By varying the gas and airflow capabilities increased AFUE (Annual Fuel Utilization Efficiency) SEER (Seasonal Energy Efficiency Rating) are realized. Resulting in year-round energy savings for your home. These types of furnaces are also Energy Star rated which means that they qualify for Government and Utility rebates.
A variable-speed motor is a component of high-performance residential furnaces. Unlike single-speed motors that run at full capacity and then cycle off, a variable-speed motor can operate at high speeds, low speeds or anywhere in between, ramping up and down like a dimmer switch. Because it can fine-tune airflow to heating or cooling demand, it minimizes wasted electricity and ensures money spent on utility bills goes directly into the comfort of your home.
Energy efficiency is just one advantage of a variable-speed motor. Gradual acceleration and deceleration of the motor significantly reduces sound levels, compared to a single-speed motor. This also helps keep temperatures more consistent.
What are the features of the Lennox SLP98V Variable Capacity furnace that Cook's carry:
Exacting precision keeps you as comfortable as can be. Lennox Precise Comfort technology allows the SLP98V to keep the temperature held exactly where you want it. Heat is even throughout your home, with no cold spots. If it sounds perfect, it's because it is.
Nothing's more efficient. With industry-leading efficiencies of up to 98.7% AFUE, the SLP98V can save you hundreds of dollars in utility costs every year.
A perfectly quiet environment. Lennox Silent Comfort technology combines advanced engineering with sound absorbing insulation to deliver the ultimate in quiet performance. The Lennox SLP98V is up to 10 x quieter than competitive models.
Just the right amount of airflow. Lennox AirFlex technology allows Cook's to adjust airflow to best match your lifestyle, home design and geographic location.
When paired with a Lennox iComfort S30 thermostat, the SLP98V adapts to your routine and adjusts temperatures accordingly.
Lennox Elite® Series – Two-Stage Variable Fan Furnace
Highly Efficient Home Comfort is even Better.  Elite® Series equipment is a cut above when it comes to making people comfortable in their homes. With innovative features and capabilities, the Elite Series delivers exceptional comfort, but also outstanding energy efficiency. Compared to conventional heating and cooling systems, Elite Series can save you hundreds of dollars in energy costs each year.
Two-stage operation, or two-stage cooling, means the furnace has two levels of operation: high for cold winter days and low for milder days. Since the low stage is adequate to meet household comfort demands 80% of the time, a two-stage unit runs for longer periods and produces more even temperatures.
Longer heating cycles also translate to increased system efficiency and greater humidity control. This is important because high moisture levels can increase the potential for mold and other pollutant problems.
By comparison, a single-stage furnace either runs at full power or cycles off. This can limit efficiency and create temperature swings inside the home.
What are the features of the Lennox EL296E two-stage operation and power saver furnace that Cook's offers:
Two-stage hat, one serious commitment to performance. Conventional furnaces are either off or on. But the EL296E can output heat at two different intensities, allowing it to fine-tune your comfort and your energy use in perfect balance.
Make your air feel great, even in the summer. The EL296E also has the power to make your home feel better during summer months. By operating at its lower speed, air spends more time in contact with the outside coil, the cooling engine of your air conditioning unit. This helps reduce moisture levels inside your home to enhance your comfort.
Constant torque, constant efficiency. The Lennox Power Saver constant torque motor adjusts airspeed based on demand, helping the furnace use less energy in both heating and cooling modes. 33% more efficient than a standard motor.
Built for exceptional reliability. Every component of the EL296E has proven itself through extensive testing in the Lennox research labs. So you can take comfort knowing the furnace will deliver reliable performance, season after season.
Duel-fuel capability means smarter energy use. When the EL296E is paired with a Lennox heat pump, it creates a system that can automatically alternate between electricity and gas fuel to keep you warm. So you're always using the most energy efficient way to keep comfortable.
Lennox Merit® Series – Single Stage Variable Fan Furnace
A Smart Decision Always Feels Good.  
Cook's stands for innovation, dependability and reliability in heating and cooling equipment. The Merit® Series carries on that tradition with pride, because it's built with smart designs, and thoroughly tested to ensure it will perform to your complete satisfaction.
The single stage furnace has one high stage that the furnace outputs heat. The single stage furnace disperses the maximum amount of heat that the furnace is designed for, regardless of the temperature of the outdoors or in certain areas of your home.
At Cook's we offer the Lennox EL195E Single Stage furnace available from Cook's Plumbing, Heating and Cooling:
The Lennox furnace that keeps you comfortable and energy smart. The EL195E offers an efficiency of up to 95% AFUE. That means comfort all winter long, without worrying about your energy bill.
Constant torque for powerful efficiency. The Lennox Power Saver constant torque motor in the EL195E adjusts airspeed based on demand. That lets it operate more efficiently than a standard motor. 33% greater efficiency than standard motors.
As reliable as it is efficient. Every component of the EL195E is rigorously tested in the Lennox dedicated research lab. So you can count on the furnace to deliver the highest levels of reliability and performance.
Duel-fuel capability for year-round savings. When the EL195E is paired with a Lennox heat pump, it creates a system that can automatically alternate between electricity and gas fuel to keep you warm. So you're always using the most energy-efficient way to keep comfortable.
Lots of comfort, without a lot of noise. Because it's made with special sound absorbing materials, the EL195E operates at very low sound levels. And because it has a Power Saver constant torque motor, you won't ever hear loud startup sounds.


Trust us for your total home comfort needs.